Commercial & Residential Hardscapes
Commercial & Residential Landscaping & Hardscapes  •  352-874-9610
One of the best enhancements to commercial or residential property is hardscapes.  We're experts in hardscaping! we've provided creative hardscapes solutions for the likes of Disney and other major commercial properties as well as creating beautiful environments for businesses and homeowners throughout Florida.
Retaining Walls
Hardscaped walls provide functionality and add great aesthetic value to your property. Let our experience help make your vision a reality.
Walkways & Patios
Creative Walls & Landscaping can help you create beautiful entryways to your home or business. Hardscaping for pathways, patios, pool decks and more.
Beds, Fire Pits & Water Features
Create functional stone features like fire pits, flower beds, gardens, reflecting ponds, waterfall, fountains. Even an outdoor kitchen!
 Commercial or Residential
Let Our Experience Work for You!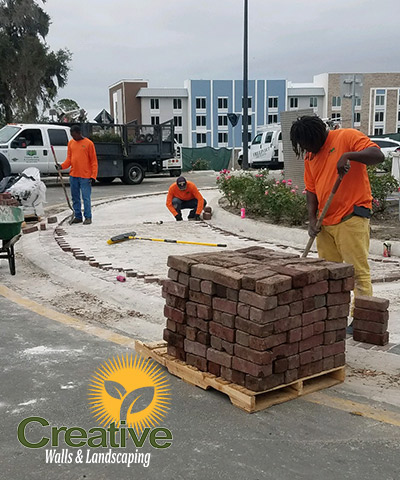 Request An Estimate Today!!